BREAST AUGMENTATION IN THOUSAND OAKS, CA
Are you dissatisfied with the look of your breasts? Do you wish they were larger, fuller, or more symmetrical? If you feel that you can benefit from breast augmentation, come to Leilie J. Javan MD. As an established plastic surgery office in Thousand Oaks, CA, we offer breast augmentation procedures designed to produce results.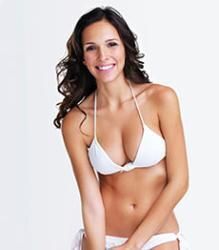 OPTIONS GALORE
Breast augmentation at Leilie J. Javan MD can work to achieve a number of aesthetic goals, including:
The restoration of breast size and shape after weight loss
The enhancement of overall breast size
When you come in for a consultation, we'll thoroughly discuss your options for breast augmentation and review the results you're looking to achieve. And if you opt to pursue a procedure, we'll take the time to explain what to expect before, during, and after your surgery. For more information or to schedule an appointment, call Leilie J. Javan MD today.
GUMMY BEAR IMPLANTS IN THOUSAND OAKS, CA
Cohesive silicone gel implants, also known as "gummy bear" implants, are quickly becoming a popular alternative to the previous generation of silicone implants. And at Leilie J. Javan MD, we're pleased to offer gummy implants to our valued Thousand Oaks, CA patients.
EXPERIENCE THE BENEFITS
Many consider gummy implants to be a safe, effective means of breast augmentation. The gumminess of the gel, which gives these implants their nickname, make it more difficult for the material to enter the body if an implant is ruptured. And because gummy implants come much closer to the actual feel of natural breasts, many prefer this option over implant methods of old.
If you're interested in gummy implants, we're more than happy to discuss them as an option for your breast augmentation procedure. To schedule a consultation, call us today.
NATRELLE BREAST AUGMENTATION IN THOUSAND OAKS, CA
Considering breast augmentation surgery? Natrelle offers a completely personalized approach. With over 140 shapes and sizes to choose from, Natrelle allows you and your surgeon to explore a wide range of options.
THE NATURAL LOOK YOU CRAVE
Natrelle implants are different than traditional implants. Unlike round silicone implants, Natrelle implants are designed to be more true to the shape of a woman's breast, resulting in a more natural look. At Leilie J. Javan MD, we know that the decision to undergo breast augmentation surgery is a highly personal one, and we're committed to delivering the beautiful results you crave. Because we strive to provide the very highest level of care, you can expect to be treated with compassion, professionalism, and respect by each and every member of our team.
If you're interested in breast augmentation, consider Natrelle implants. Call Leilie J. Javan MD in Thousand Oaks, CA today to schedule your consultation and learn more.
Breast Augmentation Before & Afters
Patients of Dr. Javan
Recovery and Beyond
Dr Javan performs breast augmentation in AAAASF certified surgery centers with Board Certified Anesthesiologists for the highest level of safety, comfort, and privacy that our celebrity clientele agrees is second to none.
This outpatient procedure usually takes about an hour to preform and is safely done with general anesthesia. We employ a variety of access incisions depending on the patient's anatomy and wishes. The implant is then placed underneath or above the pectoralis muscle depending on the patient. If a breast lift was discussed at your consultation, Dr. Javan will usually perform that at the same surgery. Our patients leave the surgery center with Dr Javan's personal cell phone number so they have the confidence they can reach her whenever they need to. Generally speaking, the patient can return to work within a week and all forms of physical activity at 6 weeks.
You will have some swelling for up to 6 months. Scars will not be mature in appearance until they reach a year's time. In the weeks following your surgery, you will have several check in appointments with us so that we can follow your progress closely.
Pricing for your Breast Augmentation
The price of your procedure will depend on several factors and for accurate pricing, Dr Javan will need to meet and evaluate you to decide the best treatment plan. However, if you call and speak with us at the office, we can give you a good estimate before you come in for your consultation.
Breast Augmentation
Frequently Asked Questions
What Implant Size Should I Choose?

This depends on the final breast size you want and your anatomy. If you have pictures of women who have breasts that are the size you want, I can take this goal into account when determining your implant size. We have a successful method to help you using our conversation of your hopes, trying on the exact size implants in the office with a tight fitting sports bra, and finally using our 3-D imaging system also known as Vectra. Vectra allows the computer to take a picture of you in 3-D and project it on the screen. Then we can try different size implants on your torso to see how they would look. Patients love seeing this and feel very confident once we have chosen an implant for their surgery. Implants are measured by volume, not by cup size. Your new breast size will be a combination of your current breast size and the implants. It takes an experienced surgeon to determine the combination that will ultimately be your best choice and we will have several discussions on this topic leading up to your surgery.

Do Breasts Become Smaller After Pregnancy Or Breastfeeding?

Sometimes. In my experience, it seems that the greatest change between the two can happen after breastfeeding. I can perform a breast lift to help restore a rounded shape and breast augmentation to increase breast size. If there is significant sagging, a combination of the 2 procedures is required to achieve the most attractive results.

What Kind Of Scar Will Be Present After My Procedure?

During a breast augmentation, Dr Javan will place the incisions either along the breast crease or around the areola, so although there are fine scars, they are disguised and become barely noticeable within a few months. Scarring is 99% genetic, which means that your DNA largely determines what kind of scar is possible; however, Dr Javan is an experienced expert at skin repair, and she will give your incision the best chance to heal in the best possible way.
I Am Disappointed With The Breast Augmentation I Had From Another Surgeon. Can You Help?

Patients often seek Dr Javan out when their original surgery doesn't turn out the way they hoped. Communication and discussion of what is realistic is a cornerstone of any revision project. We perform many revisionary surgeries due to dissatisfaction with the original surgeon's work, aging, and other reasons. She has helped many women get the natural attractive breast size and shape they desire, even when they've had complications with their initial surgery or their results weren't what they wanted. Revision breast augmentation surgery is more complicated than the original procedure and requires a highly skilled and experienced plastic surgeon. If you are unhappy with your results elsewhere we encourage you to come talk with Dr. Javan and she will help you consider your options for improving things.

Can You Combine Breast Augmentation With Other Procedures?

Yes. It is usually safe to combine certain plastic surgery procedures. You can attain the improvements you want and have surgery performed just once with a in a single recovery period. It is not uncommon to combine this with things like breast lift, liposuction, tummy tuck, blepharoplasty or other procedures. Our primary consideration is how much time the total procedure will take. During your consultation we will discuss this if you are considering multiple procedures.
Meet
Leilie J. Javan MD
Dr. Javan studied at Loma Linda University, where she received her degree in Biophysics in three years. During that time, she was hand-selected to teach physics lab to other undergraduate physics students, a job typically held by graduate students in many departments. During this time, she won departmental awards, was a leader in several on-campus groups, and was active in research.
She continued on to pursue her medical degree at Loma Linda, where she first became interested in Plastic Surgery. She continued her interest in research and presented her findings at several scientific plastic surgery meetings. She was elected to several leadership roles within the class, among them vice president and newspaper editor.